Mountain biking in Alpe d'Huez
Taking its name from the flagship resort of the Grandes Rousses, the Alpe d'Huez Grand Domaine VTT links Alpe d'Huez, Oz-en-Oisans, Vaujany and Villard Reculas in a huge playground perfect for all mountain biking disciplines.
Avec 11 remontées mécaniques ouvertes tout l'été, le massif dédicace l'été au vtt. Beaucoup d'itinéraires sont sur des chemins « naturels » c'est-à-dire non tracés pour la pratique exclusive du VTT. Cela donne une ambiance enduro sauvage à goûter sans modération.
With 11 lifts open during all summer, the domain dedicates its summer to mountain biking. Many itineraries are on natural tracks, meaning they have not been created exclsively for MTB. This gives them an untamed enduro feeling that you can enjoy with no holds barred.
Resort presentation in video
---
Bike Park in brief
Lift Opening: from Juily to August
Pistes: 280km – 36 pistes
11 Downhill runs
13 Enduro trails of which one can be ridden on e-bikes or by families, and Megavalanche track
13 Cross-Country itineraires, 3 of which can be ridden on e-bikes and 3 other by families.
Altitude difference: From 3300m to 720m
Lifts: 12
---
Track Maps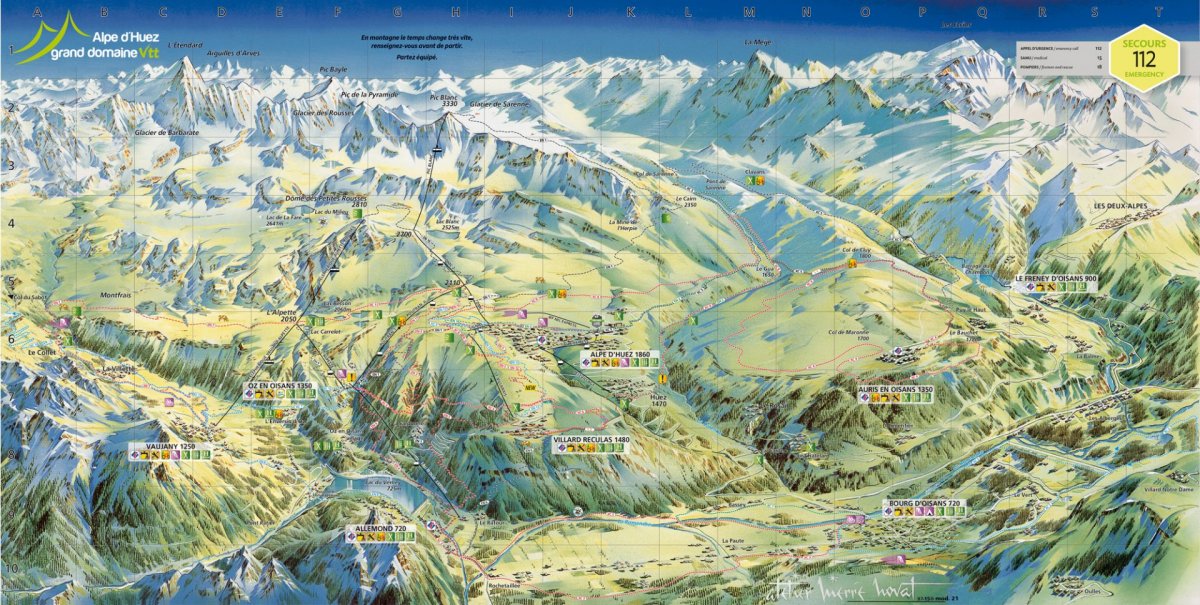 ---
Les nouvelles pistes
"Va Rouler l'Agneau !" (D 2)
Nouvelle piste de descente, 2,5km d'itinéraire vert sur le secteur des Bergers à l'Alpe d'Huez.
La Mad'Oz (EN 11)
Nouvelle piste Enduro idéale pour rejoindre Oz station depuis l'Alpe d'Huez. Cette piste ludique offre un tracé unique à travers prairies, forêt et le long du torrent du Roubier. Enduro rouge de 4,5 km, 746 m de dénivelé.
A Bourg d'Oisans
En direction de Venosc, via la Voie Verte, découvrez les nouveaux aménagements de la XC 2. UN sentier re-travaillé en sous-bois le long du lac de Buclet et en direction de la cascade de la Pisse, ludique et dynamique, une découverte sympathique pour tous les niveaux !
---
Zones dedicated to fun activities
Alpe d'Huez
Young riders can try out and practice their MTB technique with two green and blue level downhill lines at the end of the D8.
Pump track You will enjoy the pump track that will be installed this summer not far from the DMC at 1800.
Bourg d'Oisans
A blue line and a pump track with a free access to all.
Expert dirt area reserved for members of the B-O Trail association.
Informations :
BO.Trail : Become a member – 06 85 50 30 30
Oz-en-Oisans
Aménagements ludiques VTT
Deux tracés avec bosses et virages relevés, permettent aux plus jeunes de s'initier et de se perfectionner en VTT de manière ludique. Accès direct à l'espace ludique de l'Alpe d'Huez par le Télécabine de Poutran.
Pump track
Enchaînez virages relevés, creux et bosses sur une piste ludique pour pratiquer la maniabilité du vélo. Accès libre de 9h à 19h, 7/7j. Enfants sous la responsabilité des parents
Vaujany
L'espace ludique du Collet est composé de différents modules pour découvrir et s'initier au VTT : Snake au sol, Snake sur-élevé, un dromadaire, pour apprendre les techniques propres aux virages, une poutre et une bascule pour l'apprentissage de l'équilibre, deux passerelles jumps.
Zone en accès libre tout au long de l'été
---
Boucles familles
Oz en Oisans
XC12: this is a version of the French 2015 MTB championship cross-country track, adjusted for families. Within 500m of the resort centre, this circuit takes you along paths and through the woods. A 4.5km route, suitable for all abilities, including various modules, and variations, with a few slightly steeper passages.
Huez
Two easy itineraries are accessible to beginners and for MTB initiation.
XC 10: faible dénivelé, circule dans les alpages, offrant un contexte de pratique splendide entre 30mn et 1 heure.
EN 2: half-day outing into the wilds of nature. Return trip possible via the lifts (Télévillage), or by shuttle from Huez Village.
Vaujany
XC13: this circuit starts in La Villette, passes the Centre Estival du Collet via the road, then takes the path back. Another option is to start from the tourist office. Take this route to enjoy a walk through the summer pastures with friends or family, or why not try out an e-bike
---
Location
Il y a 5 points de départs principaux pour accéder à l'Alpe d'Huez Grand Domaine VTT. Ils sont tous interconnectés.
Au départ de l'Alpe d'Huez
Au départ de Villard-Reculas