Cycling events in Oisans
During the summer cycling or MTB events set the pace of life in Oisans.
Accommodation for cyclists in Oisans
To ensure that visiting cyclists enjoy a top-quality welcome, accommodation that offers services and equipment adapted to cyclists have been awarded the "Accueil Cyclo Oisans" welcome label.
#bikeoisans
Find your most beautiful pictures of Oisans on Instagram (#oisans)
Oisans and cycling ... a long history
Road biking in Oisans
Legendary mountain passes
You must have heard of the Glandon Pass, the Croix de Fer Pass, the Galibier Pass, the Lautaret Pass and the Ornon Pass … and these are just the most well known !
If we add to the list the famous climb up Alpe d'Huez with its 21 bends – you can be sure that all cyclists have heard about Oisans.

Situated in Isère, the Hautes Alpes and a little bit in Savoie, Oisans is an absolute must for any self respecting cyclist … Admittedly you will have to do a fair amount of climbing, but that's a good thing, it's why we like cycling here so much !

In the summer it is cycling events, such as Alpe d'Huzes, the Marmotte Grandfondo, the Tour de France and Oisans Col Series that set the pace of life in Oisans … Whether you are a professional cyclist searching for the ultimate training ground, or a more reserved cyclist, everyone will come away with a lasting memory of Oisans.
Mountain biking in Oisans
Steep terrain, kilometres of untamed paths and 3 mountain biking resorts.
In Oisans the term mountain biking takes on a whole new meaning ! Jump on your mountain bike and tackle bike paths that start on the glacier at 3000m and descend for 2500m through meadows and undergrowth and finish in the grassy plains of Bourg d'Oisans.

With the MTB resorts of Les 2 Alpes, Alpe d'Huez Grand Domaine VTT and La Grave, Oisans offers you 3 very different domains with runs that have been designed and secured for riders of all levels.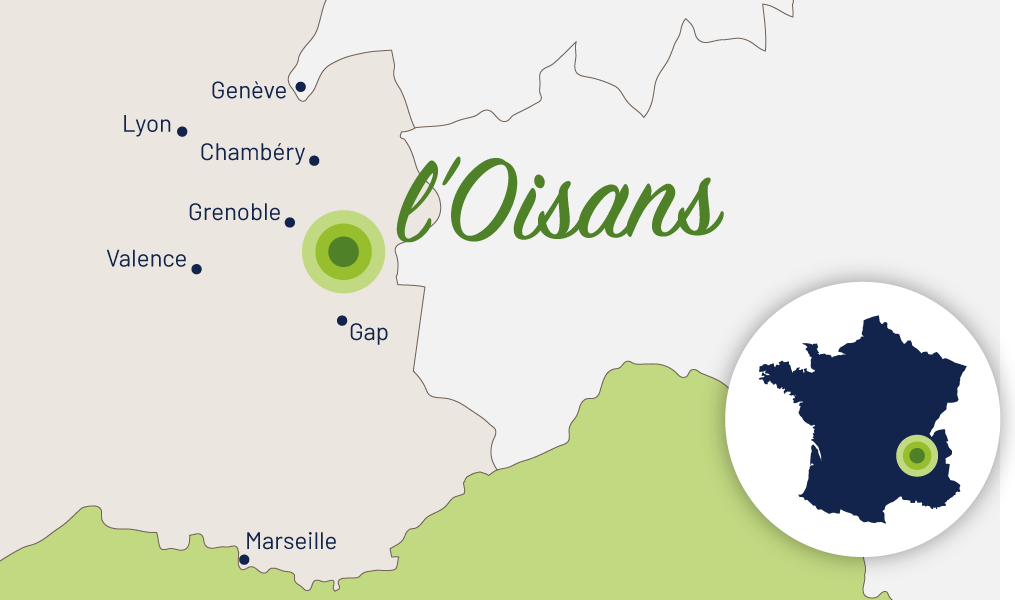 Oisans…
the high mountain right at your fingertips.
Grenoble 1h
Lyon 2h
Valence 1h45
Paris 6h
Marseille 4h
Genève 2h30
Lyon 2h30
Valence 2h15
Paris 4h
Marseille 4h30
Genève 3h30
Paris 4h
Londres 4h30
Amsterdam 4h40
Bruxelles 4h20
Barcelone 4h
Berlin 5h
Dublin 5h15
Rome 4h30