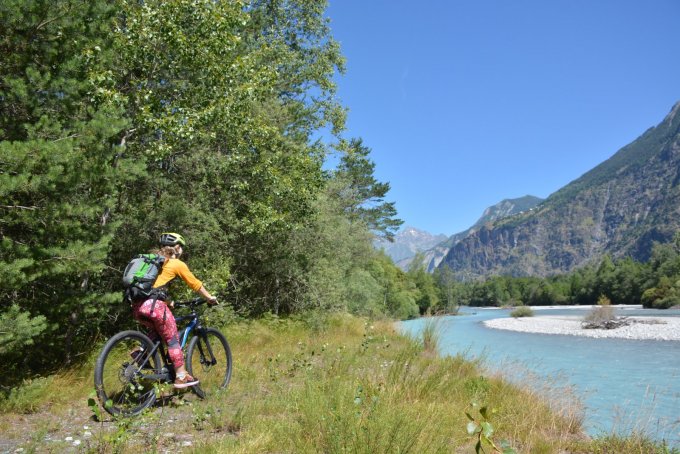 The Bourg d'Oisans plain is filled with magnificent hidden treasures along the cliffs of Le Bourg, continuing on through the Allemond plain and finally along the Romanche river. This loop will be a surprise and delight for cyclists.
About : Around the Bourg d'Oisans plain by e-bike
DESCRIPTION
From the centre of Bourg d'Oisans, follow signs to the secondary school (Collège) and join the path that goes behind Les Alberts and the business park. The path is clearly signposted as far as Rochetaillée.
Briefly join the Route d'Allemond before taking the clearly signposted path from Le Plan. Ride up to the Barrage du Verney dam and take the D44 road to the hamlets of La Voute and Le Rafour. Then follow the track back towards Bourg d'Oisans along the Romanche river.

PRACTICAL INFO
Recharging: in restaurants in Allemond
Refreshments and restaurants during the ride:
Bars and restaurants of Allemond
Restaurant at the Lac du Verney

DON'T MISS
The bison farm in Rochetaillée
Lac du Verney: restaurant and watersports centre
The EDF Hydrelec Museum: free entry
Lac du Verney
Summer market: Monday mornings in the centre of Allemond
Map and GPX marking
Around the Bourg d'Oisans plain by e-bike
Le Bourg-d'Oisans
Getting There
Prices
Free of charge
Free access.
This service provider also offers