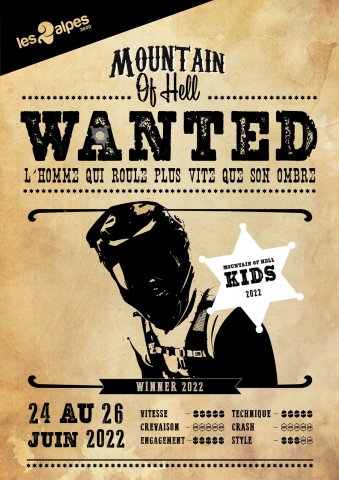 2022 rhymes with the return of the MOH Kids! Following in the footsteps of their elders, the young riders will also take on the mythical Mountain Of Hell on 25 and 26 June.
About : Moutain Of Hell Kids
Just like its big sister, the MOH, the "Kids" will have the same great programme: course reconnaissance, a qualifying round and a grand final, all in an unbeatable atmosphere.


THE PROGRAMME
(subject to change)

Thursday 23rd June 2022
16:00-19:00 Plaque collection - Sports Hall

Friday 24th June 2022
9am - 6pm Collection of plaques - Sports Hall

Saturday 25th June 2022
9am - 10am Collection of plates - Sports Hall
9am-3pm Free reconnaissance
4pm MOH KIDS race
6.30 pm MOH KIDS prize-giving ceremony - Place des 2 Alpes (or Palais des Sports in case of bad weather)

Sunday 26th June 2022
9.15 am Mountain bike animation on snow supervised by professionals
12pm Meal - Palais des Sports
16h Bye Bye and see you next year !
Minimum age: 9 years
Welcome: Three categories will be considered:
- U10: boys and girls aged 9 and 10*.
- U12: boys and girls aged 11 and 12*.
- U14: boys and girls aged 13 and 14*.
*Only the year of birth is taken into account in the category assignment.
Date
From Saturday 25 to Sunday 26 June 2022.

Subject to favorable weather.
Prices
Child (9-14 years): 50 €.